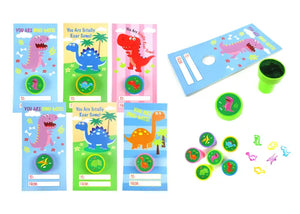 Tiny Mills
Dinosaur Stamper and Card Set
Regular price
$13.00
$0.00
These roaring dinosaurs make the perfect Valentine's Day card! It comes with 4 different dinosaur themed designs! Just insert the handle of the stamp into the card!
Dinosaur stampers with cards kits comes with 36 stampers and 36 cards!
Stamps are BPA free, toxic and passed CPSIA and ASTM testing. Stampers are 1.5 inches tall, 1 inch in diameter.