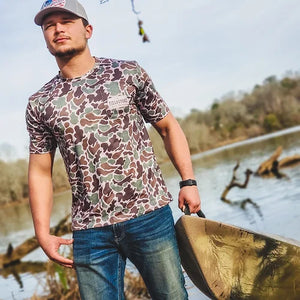 Fieldstone
Men's Dry-fit Camo Short Sleeve
Regular price
$45.00
$0.00
Fieldstone has designed the perfect stretch, lightweight performance fabric to keep you cool and comfortable while enjoying the outdoors.  A classic T-shirt style with zipneck protection and made of 95%  and 5% spandex., the shirt has the perfect amount of weight and stretch to make it your favorite outdoor tshirt.  We designed this performance wicking shirt for the sporting gentlemen short-sleeve shirt with the fisherman in mind, simple pocketing, vented back and a quick-drying fabric. 
Cooling
Lightweight
Wash & Wear
Machine Wash, Do Not Bleach and Tumble Dry
Quick-drying Fabric

Sizes S(34-36), M(38-40), L(42-44), XL(46-48), XXL(50-52).